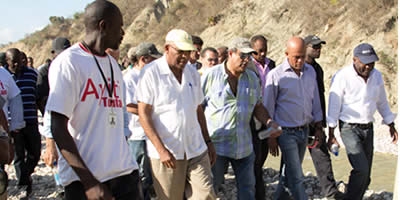 President Martelly visits the Bas Boen CRDD and the Rivière Grise irrigation system rehabilitated by USAID/WINNER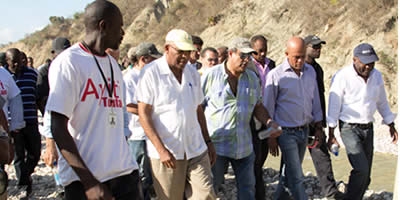 On February 16, 2012 Mr. Michel Joseph Martelly, President of the Republic of Haiti, visited the Rivière Grise irrigation system and the Rural Center for Sustainable Development (CRDD) at Bas Boen. The President visited the Bassin General dam which has been rehabilitated by USAID/WINNER in partnership with ANAPAAAH. The objective was to rehabilitate the water intake on the Rivière Grise in order to supply the irrigation system. By repairing the water intake, farmers were able to successfully participate in this year's bean campaign on close to 2000 hectares in the Cul-de-Sac plain.
Accompanied by Mr. Hebert Docteur, Minister of Agriculture Natural Resources and Rural Development, and several members of his private cabinet, President Martelly expressed his support of the project's activities that are oriented at finding sustainable solutions to help the Haitian Government attain its objectives: the implementation of agricultural development activities in the Cul-de-Sac plain and the improvement of the living conditions for the populations living in the region.
On this occasion, the President listened with great attention to Mr. Jean-Robert Estimé's intervention outlining the project's activities in the region. During the past two years, USAID/WINNER has rehabilitated close to 10,000 hectares of irrigation systems in the Cul-de-Sac plain. Seven pumping stations have also been repaired and the thermal station at Bas Boen has been rehabilitated as an additional source of energy when there is a shortage of electricity provided by Electricité d'Haïti (EDH). The project has also helped organize the Riviere Grise Water Users Association (AIRG), whose mission is amongst others, to manage and maintain the system.
At the Bas Boen CRDD, President Martelly was pleasantly surprised to see the laboratory, which provides plant diagnostics and soil testing to farmers in the area. The President also met with a group of Master Farmers from USAID/WINNER's training program, implemented in partnership with the Ministry of the Environment and the Ministry of Agriculture.